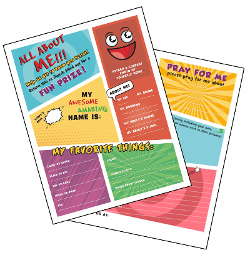 More Details ›
All About Me Kid Info PDF
An intentional relational ministry tool from Karl!
This awesome ministry tool is a fun and easy way to get to know your kids, learn about their needs, keep up with the world of kids, and get ministry feedback, all at once!
This form asks kids questions to help you learn about them, know how to pray for them, and get insights into their thoughts and world while getting valuable feedback on your ministry.
It's fun and colorful and attractive to kids, so they'll WANT to fill it out for you!
You can purchase it here in our store, or you can
download it for FREE
as an All Access Member.
NOTE: You can add your churches contact info on the bottom of side two.
WARNING! This tool is going to have a profound impact on your ministry. Guests will return. You'll know your kids better. You'll pray more intentional and informed prayers. You'll get valuable insights on how to improve the ministry, and parents will appreciate the personal attention you are able to give to their child. Can you handle it?
Watch a video on how to use this tool, and view sample pages.
This download resource is available instantly after purchase by clicking on My Downloads at the top of any page.
---
Related Products