it - Agents of Acts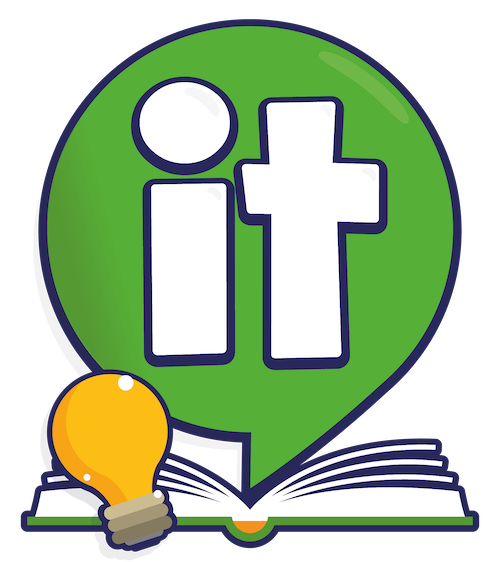 Inspire kids to become Agents for God to change the world!

AN 8-WEEK SERIES FOR ELEMENTARY CHILDREN'S CHURCH from Pastor Karl Bastian, founder of Kidology.org and author of DiscipleTown and many other creative, kid-friendly curriculum series. You are going to love it!
All Access Members save over 50% off this it Bible Curriculum unit! Join today!
Agents of Acts - An 8-Week Series on the Book of Acts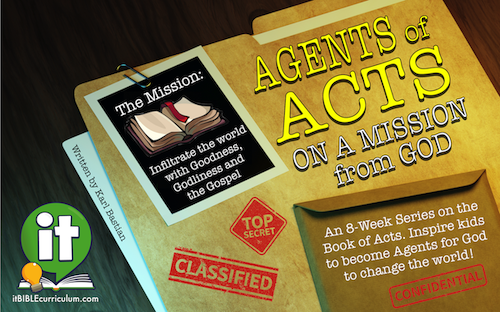 From it Bible Curriculum, Agents of Acts is an 8-week series that studies the Book of Acts by exploring the lives of those who acted as God's "Agents" while spreading the Gospel and increasing the followers of Jesus. Your kids, too, can be Agents for God!
Learn what makes it Bible Curriculum unique!
OVERVIEW:
Agents of Acts is a spy-themed series that challenges kids to become followers of Agent 01, Jesus, as they go on missions for the G.O.D. (The Global Operations Director) to accomplish the Mission of Infiltrating the world with Goodness, Godliness and the Gospel.
Your kids will enjoy secret codes, puzzles, missions, and more, all while being challenged to make a difference in their world as Agents for God!
Theme Passage: The kids will memorize Acts 20:24.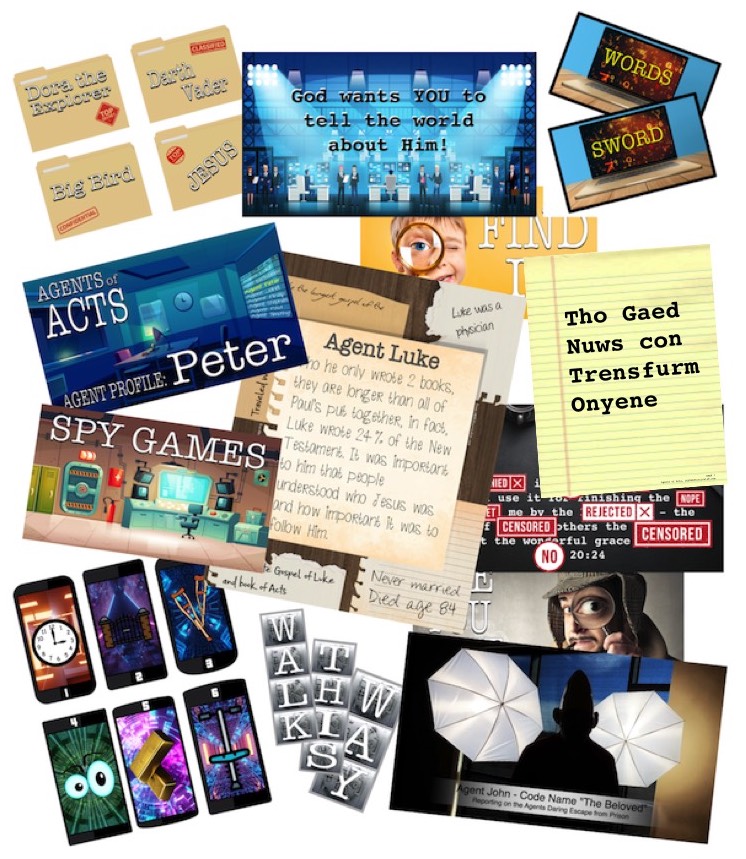 There are OVER 100 DOWNLOADS - videos, handouts, game files, screen images, posters, customizable graphics, and more! We give you the tools you need to be AMAZING!
Lesson Overview:
Lesson 1: Agent Luke (The Great Commission)
God wants YOU to tell the world about Him!

Lesson 2: Agent Bartholomew (The Holy Spirit is Given)

God's Spirit is in you to help you live for Him!

Lesson 3: Agent Peter (Peter's First Miracle)

God wants to do amazing things through you!

Lesson 4: Agent John (Miraculous Escape from Prison)
We must obey God rather than people!

Lesson 5: Agent Philip (Sharing with the Ethiopian)
The Good News is found in God's Word!

Lesson 6: Agent Stephen (Stephen dies for Jesus)
The Good News is worth everything!

Lesson 7: Agent Paul (Paul's Conversion and Missions)
The Good News can transform anyone.

Lesson 8: Agent Timothy
You are never too young to make a difference in the world.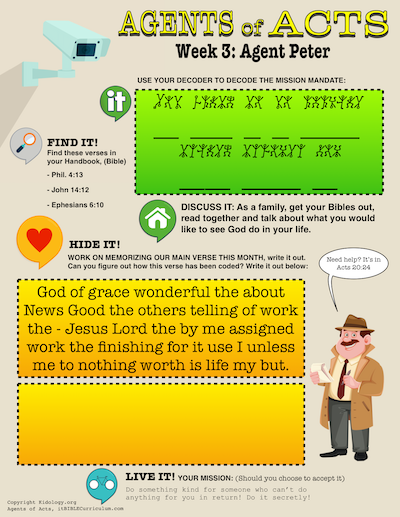 AGENTS OF ACTS INCLUDES:
Easy Prep Lessons Teachers AND Kids will love!
Theming ideas for the series
Fun intro skit for puppet or leader
A funny video intro (see sample below)
Games that enhance the lesson!
Creative Bible story teaching ideas
Dossier on a disciple in each lesson
Cell phone codes for Bible story
Kids need their Bibles to look up verses
Theme Bible passage for the month
Paper and/or digital take home tool
Helpful presentation images
Bonus files, downloads, and ideas
Editable presentation graphics
.
Videos Featuring Undercover Agents who will give first-hand reports on their missions and progress in acting as Agents for God. (8 videos)
Sample Video from Lesson 3:
Every unit from it Bible Curriculum includes a complete biblically solid, fun, creative lesson your kids will love!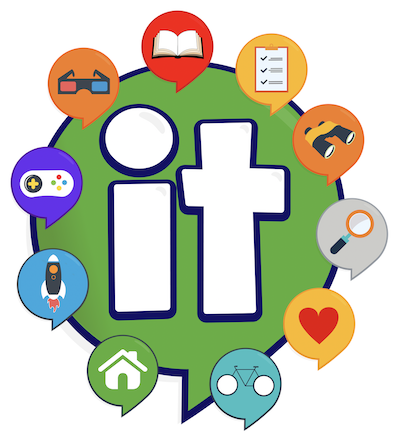 Launch it, Play it, Watch it, Tell it, Teach it, Show it, Find it, Hide it, Live it, and Take it.
Download Options:
STARTER and ALL ACCESS MEMBERS CAN DOWNLOAD A COMPLETE SAMPLE LESSON HERE
PURCHASE THE COMPLETE SERIES in the Kidology Store

NOT A MEMBER? Join Today - Starter (Free) or All Access