Categories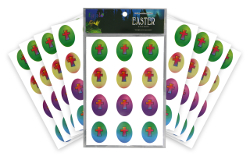 Egglo Easter Stickers (96-Pack)
Fun for Kids Religious Egg Fillers, Baskets, and Easter Toys
Cute little Easter egg stickers help your children focus on Jesus

TEACH THE TRUE MEANING OF EASTER: Make Easter egg hunts more meaningful with Christ-centered stickers.

MINISTRY TOOLS: Great prizes or handouts for Sunday school class, youth ministry and Christian schools.

96 perforated stickers total. 12 colorful cross stickers on each sheet. 8 sheets per pack. Sized to tear off and fit inside an Easter egg.

INTERACTIVE EGG HUNT: Christian Easter Egg Stickers are also available in the Egglo Egg Hunt Kit. Egglo is a glow in the dark egg hunt with a Christian message. Kids search in the dark for glowing eggs that represent Jesus - God's light of the world (GLOW). It's a powerful lesson and super fun!

Ready. Set. GLOW!

View the entire line of Egglo Products available on Kidology!
---
Related Products