Categories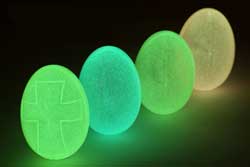 Egglo Glow in the Dark Easter Eggs
Great at Easter or Anytime!!
Hold a nighttime egg hunt event and make Jesus the focus!
TEACH YOUR KIDS ABOUT EASTER: Glowing eggs with a Christian message that Jesus is God's Light of the World (GLOW).
GIVE YOUR KIDS QUALITY: Durable plastic eggs, re-usable, easy to open and close. Simply charge eggs with light.
LARGE GROUP OR FAMILY: Have an all glow egg hunt, or mix in regular eggs and use flashlights. Egglo Eggs also make great prizes.
SO MUCH FUN: Light up scavenger hunts, birthday games, party favors or prizes, Sunday school, crafts, lunchboxes, and more.
INTERACTIVE EXPERIENCE: Get the full Egglo Kit for your own egg hunt adventure with eggs, stuffers, storybook, DVD, Scripture Scrolls, and more.
Children LOVE glow-in-the-dark toys and will treasure these special eggs. The glowing eggs represent Jesus, the light of the world. Children search in the dark for the glowing eggs and see the light of Jesus. Based on John 1:5, the light shines in the darkness, and the darkness has not overcome it. Kids learn about Jesus in a fun, memorable way. Each box contains 12 eggs in four colors.
Egglo eggs are complemented by
The Egg-cellent Easter Adventure book on video
and
The Egg-cellent Easter Adventure Program Guide
and other
Egglo Products
available on Kidology.
Egglo Eggs aren't just for Easter. They are fun in crafts, Christmas stockings, tucked in a lunch box with a treat, leave as a gift with a special note to spread the light of Jesus: on a doorstep, in a mailbox or locker, tucked in a bag or back pack, or even mail one! Egglo eggs make wonderful tools to continue the conversation about Jesus.
Shipping in the continental U.S. costs $5 per box.
Also, you can get
four boxes for the price of three.
View the entire line of
Egglo Products
available on Kidology!
---
Related Products