Categories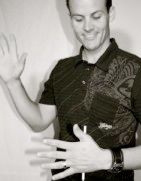 Laflin's Floating Pencil Downloadable Video
From David and Teesha Laflin
Ever wonder, "how did they do that?!?" This downloadable video gives you the full explanation for how the trick is done.

A pencil is displayed to the audience in a closed fist. As the presenter's hand slowly opens the pencil appears to be floating. The audience is apparently shown the secret behind the effect, only to be tricked once again. This Gospel lesson is based on II Corinthians 4:18.

This download resource is available instantly after purchase by clicking on My Downloads at the top of any page.
---
Related Products