Kidmin Talk #139 - June 28th, 2020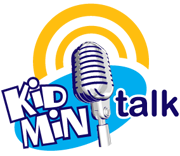 Duration: 00:33:16
Download MP3
Rethinking How You Measure Success
Welcome to the 139th episode of Kidmin Talk!
Rethinking How You Measure Success
If you are feeling discouraged by declining engagement online, weary of the shutdown even as you are excited about reopening, you could be measuring success wrong. Pastor Karl has an encouraging message for you in this podcast, plus updates on virtual VBS, Flat Pastors, and more! Tune in and get some fresh wind in your sails!
Share this podcast with this link: Kidology.org/kidmintalk139
FEATURED RESOURCE: Pastor Karl just finished GO Curricululm's virtual VBS: Backyard BOLT! It was FUN, FAST and FAMILY-FRIENDLY! You have GOT to check this out!
ENJOY: Kidmin Talk #139
MENTIONED ON THE SHOW:
BONUS: Bolt VBS Highlight Reel:
CONNECTING WITH KARL:
E-mail: karl @ kidmintalk.com (put it together - broken here to fight spambots)
Twitter: @Kidologist or @KidminTalk

Discuss this show in the Kidology Facebook Group
Friend Karl at Facebook.com/karl.bastian