Kidmin Talk #137 - May 27th, 2020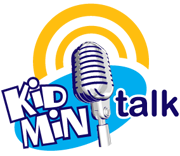 Duration: 00:14:35
Download MP3
Making Kids Feel Loved
Welcome to the 137th episode of Kidmin Talk!
7 Ways to Make Kids Feel Loved
As we anticipate returning to local church ministry back in our building, we must prepare to retrain, challenge, and inspire our volunteers. Karl shares one video that would be a good place to start - How to Make Kids Feel Loved.
Share this podcast with this link: Kidology.org/kidmintalk137
FEATURED RESOURCE: Concordia Supply - "VBS-At-Home Boxes for Every Theme!"
Directors are planning to send some kind of student items home with kids no matter how VBS plays out. We all know it is crucial to get engaging materials into the hands of kids at VBS and back into their homes.
Our friends at Concordia Supply have done the prep work and figured out how you can make your own VBS box. They have reviewed all the essential materials of each theme and found out how to get them into a single box that is simple and easy to distribute. Build your own box for multiple themes!
ENJOY: Kidmin Talk #137
MENTIONED ON THE SHOW:
CONNECTING WITH KARL:
E-mail: karl @ kidmintalk.com (put it together - broken here to fight spambots)
Twitter: @Kidologist or @KidminTalk

Discuss this show in the Kidology Facebook Group
Friend Karl at Facebook.com/karl.bastian