Categories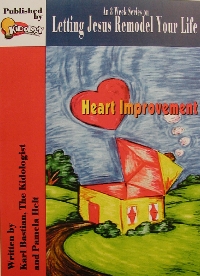 More Details ›
Kidology's Heart Improvement Kids' Church Teaching Unit Download
Letting Jesus Remodel Your Life
By Karl Bastian and Pamela Helt
Heart Improvement Kids' Church Unit
, written by Karl Bastian, includes 8 lessons and teaches children that Christianity is not just for Sunday. Jesus wants to be part of all the areas of our life.
With our updated version, you are able to download a PDF and a Word document, which you can customize to fit your ministry needs.
Click here
for a more detailed description and a sample lesson.
Delivery of your Teaching Unit will be via a secure download link sent by e-mail shortly after purchase. Links expire 7 days after purchase.
---
Related Products