Karl's Coaching Club
DON'T DO KIDMIN ALONE!

Have an "Ace Up Your Sleeve" with a Personal Coach that does ministry WITH YOU!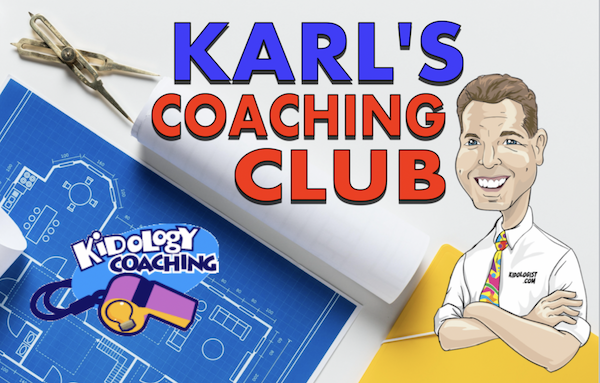 JOIN KARL'S COACHING CLUB! Three months of coaching, ministry insight, personalized help, special guest interviews, exclusive content, direct access to Pastor Karl and more!
NEW: Start at ANY time. Renew as many times as you'd like!
What is Karl's Coaching Club?
Bi-Weekly Zoom Calls with Karl and often special guests who are Kidmin Pros.
NOTE: Calls are typically on Thursday at 12noon Mountain Time depending on club member schedules. Schedule is published in advance for planning.
Exclusive content not available on Kidology.org - prepared specifically for The Coaching Club.
Private Coaching Club Facebook Group for Club Members Only.
Direct access to Karl via text message and video chat app.
Bonus product gifts from Karl from Kidology and other vendors.
Other perks you'll discover only after joining The Coaching Club.
The Coaching Club is modeled after Jesus' model of discipleship. Jesus ministered to the masses, but focused on a small group of disciples. Kidology ministers to thousands of children's ministry leaders, but it is Karl's desire to focus on a small group of dedicated leaders that he can help week in and out with their ministry.
Pastor Karl is a full time children's pastor himself, so the help he offers isn't "theory" - it is proven "in the trenches" advice flowing out of what he is doing in his ministry. He is facing the same challenges as you every month. He learns from his coaching students too! It's collaborative!

Leadership - Recruiting - Time Management - Volunteer Training - Budgeting - Staff Relationships - Outreach Planning - and more! (PLUS topics requested by you!)

Whatever you are working on, Karl is too.
Only $299 for 3 Months

Start at ANY time. Renew as many times as you'd like!
As soon as you sign up this is what happens:
You'll receive a FREE copy of the Kidology Handbook ($50 Value)
You'll receive a "Get To Know You" form to help Karl get to know you, your ministry and what you are hoping to gain through coaching.
You'll gain access to the exclusive Coaching Club Facebook Group.*
You'll be invited to the Coaching Club Marco Polo Video Chat Group. (optional)
You'll be added to the Coaching Club Dropbox Stash where Karl drops goodies!
WHY COACH KARL?
Still a full-time children's pastor - real life experience in weekly practise in children's ministry leadership. Karl lives what he teaches.
Decades of experience in small, medium and large churches including church planting and mobile church ministry.
Bachelors Degree from Moody Bible Institute and Masters Degree in Children's Ministry from Trinity University.
Named one of the top 20 influencers in children's ministry by Children's Ministry Magazine at age 40.
Prolific author, speaker, and consultant in children's ministry.
Most important: LOVES helping others reach their God-given potential!
REQUIREMENTS:
COST:
Only $299 for three months. That is incredibly affordable for the level of personal coaching and personalized help you will be recieving.
Includes group coaching calls, one on one coaching, exclusive resources, and bonus materials
Sound expensive? Not when you realize it is under $25 a week - one meal out or other regular costs you can divert to invest in yourself and your ministry.
*If you are not on Facebook, you can still join the Coaching Club, you'll just miss out on the Facebook Group content, but communication is still sent via e-mail regarding Zoom calls and other important information will be e-mailed.