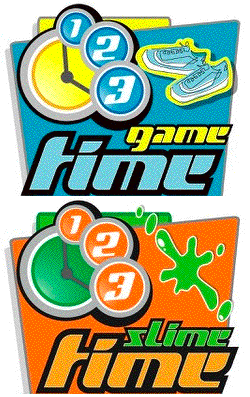 Creative Ministry Group: 1...2...3... Game Time and Slime Time!! Combo Pack Download
50 Outrageously Krazy Relay Games PLUS A Guide for Constructing Your Own Slime Booth!
1...2...3... Game Time!
is a guidebook designed to introduce 50 outrageously wild, fun, and crazy relay games revolving around three camp themes. These games can be used to plan camps, VBS, day camps, picnics, and family ministry. They are all field-tested and designed to involve kids as well as adults. When kids see adults participating, getting wet, messy & crazy, a bridge is built between the kids and adults. Relay games also help build team spirit as they learn to work together and develop trust.
1...2...3... Slime Time!
outlines the "Slime Time Kidz Zone," an evangelistic tool for reaching the kids of our communities. Utilizing events that are outrageous and off the wall, it provides a "how-to" on creating an evening full of upbeat music, props, sounds, lights, characters, drama, puppets, games, flying pies and slime. In other words, it is messy! This innovative approach is radically fun, and packed with food for the soul. Plus, you will find directions to help you build your own slime booth, along with many gooey slime recipes.
Members save when they purchase both books together!
Delivery of your purchase will be via a secure download link sent by e-mail shortly after purchase. Links expire 7 days after purchase.

1,2,3…Game Time! and 1,2,3…Slime Time! are also available pre-printed.


---
Related Products