Kidmin Talk #150 - December 13th, 2020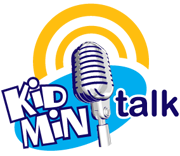 Duration: 28:51
Download MP3
A Kidmin Christmas Carol - The Ghost of Kidmin Future
Welcome to the 150th episode of Kidmin Talk, the webcast show hosted by Karl Bastian, the Kidologist. Listen here on Kidology or subscribe via iTunes to listen on-the-go with your iPhone, iPod, iPad, or another mobile device.
Share this podcast with this link: Kidology.org/kidmintalk150

FEATURED RESOURCE: Kidology Leadership Labs
What are Kidology Leadership Labs?
The Online Kidology Leadership Lab videos are designed to equip and encourage you with a topical approach to the issues you need to address as a leader in children's ministry. These training videos and resources are free to All Access Members of Kidology. You can also purchase the Leadership Lab Download Kits through the Kidology store.
Each companion Leadership Lab Download Kit includes:
Topically-related, build-as-you-go chapters from The Kidology Handbook - Leader's Edition (182 page PDF when complete)
Video for each training session
Customizable PowerPoint presentation for training others
Other supplemental resources to better illustrate each topic
SAVE 50% with coupon code mentioned in the podcast!
A KIDMIN CHRISTMAS CAROL
This is PART THREE of a three-part series.
A Kidmin Christmas Carol - this is PART THREE of a three-part series. What if you were visited by three ghosts, the Ghosts of Kidmin Past, Present, and Future? What would they show you? What would you learn? How would you change?
In this episode, you'll be visited by The Ghost of Kidmin Future. What does the future hold for you? How can you best plan for the future? How can you bring about the future you hope for?
Brought to you by Pastor Karl Bastian, founder of Kidology.org and host of Kidmin Talk, Karl's podcast that aims to Equip and Encourage YOU in your ministry to children.
KIDMIN TALK #150:
MENTIONED ON THE SHOW:
CONNECTING w/ KIDMIN TALK:

Discuss this episode of Kidmin Talk in the Kidology Facebook Group