Kidology Champions
Champion:
An ardent defender or supporter of a cause or team.
A person who fights for or defends a person or cause.
To support, defend, protect and maintain a cause.
I Samuel 17:4-23
A champion is literally "the man between the two," one who goes forth on the behalf of another.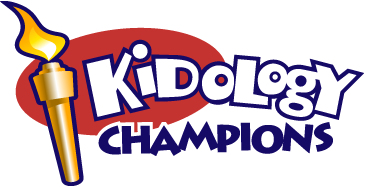 Will YOU be a Kidology Champion?
If you find Kidology a blessing to your ministry - or you just want to BE a blessing to our ministry - HERE IS HOW:
1. SIGN UP for the Kidology Champion E-mail List
This unique newsletter is different from our regular monthly newsletter. These are personal updates from our founder, Karl Bastian, to let our Champions know timely and specific needs for prayer. It is sent periodically on an as needed basis, but never more than a few times a month.

No membership or donation is required to subscribe to this e-list

. Sign Up Today! (If you already get the Kidology Newsletter, follow the instructions to update your profile. You will then be able to add the Kidology Champions list to your subscriptions.)
2. BECOME A "CHAMPION DONOR" and make a $99 Donation
"Kidology Special Ops"

Want to become part of an elite force? Consider becoming one of Kidology's Champion Donors! These are individuals who step out of the crowd and sacrificially give $99 to become one of those who say, "I believe in Kidology - I want to support what you are doing and enable to you to do more!" so they become a Champion Donor.

If God nudges you, we hope you'll respond.

This donation is tax deductible. Kidology is a 501c(3) non-profit registered in the state of Illinois. We have an independent audit conducted each year to ensure that donations are handled with the utmost care and accountability. We value your support and hope you'll become a Kidology Champion. Donate Today!
OUR MISSION: To equip and encourage those who minister to children.

Kidology Champions are those who want to say, "I believe in Kidology and want to support the staff and development of Kidology by going that extra mile!"

Your support tells us: "Rise Up; this matter is in your hands. We will support you, so take courage and do it." (Ezra 1-:4)

Thank You for your prayer and support,
The Kidology Team

You may also make a donation of any size on our donation page or paypal page oe by mailing a check (made out to Kidology) to our office:
Kidology Inc.
15615 Carob Circle
Parker, Colorado 8-134