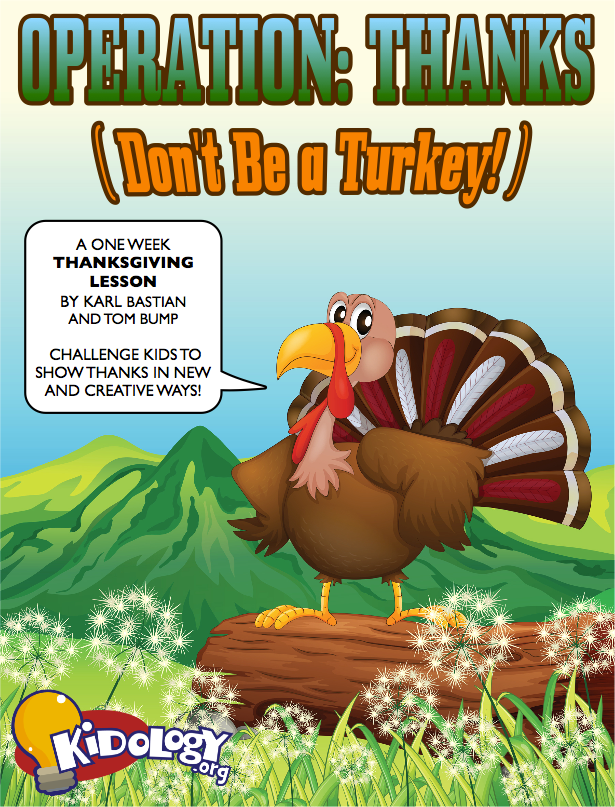 More Details ›
Operation: Thanks Thanksgiving Super Sunday Download
Challenges kids to show thanks in creative ways
Operation: Thanks is a single Thanksgiving lesson by Karl Bastian & Tom Bump that challenges kids to show thanks in creative ways.

Unit Overview:
We live in a "gimmie gimmie" culture that focuses on how much it can get. God wants us to have an attitude of gratitude for the many blessings we already have. The purpose of this unit is not only to help kids focus on being thankful, but to challenge them to think of some people that they haven't expressed thanks to, and help them think of some ideas to express their thanks in practical ways.

Operation: Thanks includes an assignment after the lesson where children will be challenged to do something to demonstrate thankfulness to three people who have helped them, yet they haven't yet responded to in a tangible expression of thanks.

Theme Verse:
1 Thessalonians 5:18 - "Give thanks in all circumstances; for this is God's will for you in Christ Jesus."

Your 18-page PDF lesson download includes:
Welcome Activity
Theme Verse Illustration
Worship Song Suggestions
Opening Video Recommendation
"Gobble Gobble" Ice Breaker Question
Game With A Point
"Let's Talk Turkey" Main Lesson
Operation: Thanks Challenge Mission
Object Lesson: Thanksgiving Overflow
"Flock Time" Small Group Activity
Partnering With Parents Resources
Coloring Sheet
Operation: Thanks Assignment Report

This download resource is available instantly after purchase by clicking on My Downloads at the top of any page.
---
Related Products