Awesome Adventure Discipleship Series
In a media saturated world, where kids are juggling content as much as adults, and where kids often don't live in the same place for their entire childhood, how do you make sure YOUR kids know the basics of the Christian Faith?
That's why Pastor Karl created My Awesome Adventure:
The "secret" isn't really a secret, it is just not done intentionally often enough - The secret is simply discipleship.
Jesus discipled. And when He left, he commanded us to disciple others, teaching them "everything He commanded" in addition to sharing the Gospel and baptizing.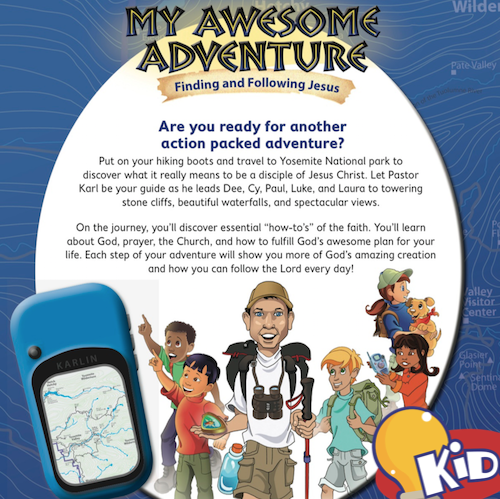 What is Discipleship?
It is an intentional process of guiding another person through the basics of the Christian Faith.
Introducing MY AWESOME ADVENTURE!
My Awesome Adventure is a dynamic follow-up resource for new Christians or an introduction to the Christian faith for kids who are not yet familiar with Christ. Children, parents, and teachers will love this introduction to the basics of following Jesus. Teach children ages 6-12 the essentials of being fully committed followers of Jesus Christ. My Awesome Adventure can be used for self-study, with a mentor, or in a classroom.
Introduce your children to Pastor Karl, the Kidologist, who will take them on an exciting hike through the natural wonders of Yosemite National Park! Along with Dee, Cy, Paul, and their devoted dog, Chip, your children will discover the essential "how to's" of discipleship.
Written by Pastor Karl and Sara Bastian, and published by DiscipleLand, My Awesome Adventure is a highly recommended recourse for new believer follow-up, Sunday school, VBS follow-up, "Foundations of the Faith" classes, summer camp, and one-on-one discipleship. All 12 lessons include a Bible study and exciting learning activities.
There are two versions, one for 6-9 year olds and the other for 9-12 year olds. In each version the puzzles and activities have been modified for different ages, but the content is the same.
Whether you teach in a classroom, or provide to parents to disciple their own children, My Awesome Adventure makes learning both fun and engaging.
Here is an overview of the lessons from the inside front cover: (view full size)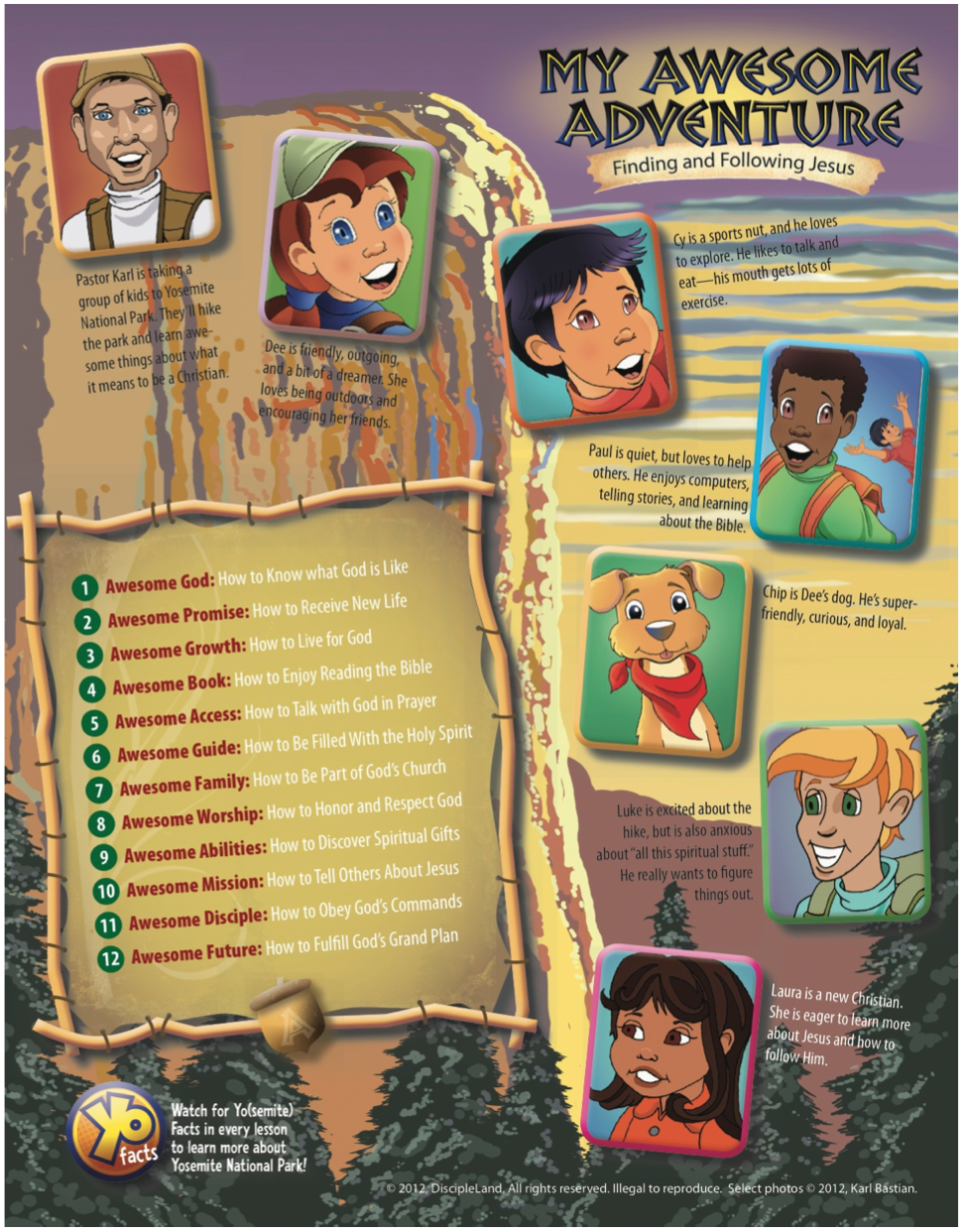 PURCHASE IN OUR STORE:


My Awesome Adventure - Student (Age 6-9)


My Awesome Adventure - Student (Age 9-12)


My Awesome Adventure - Teacher Guide