Check-In Systems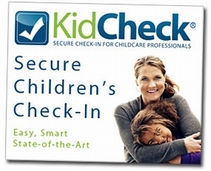 Kidology has partnered with KidCheck, providers of easy-to-use, secure children's check-in solutions, designed for churches.
Streamline your check-in process, improve security, and create a positive parent and visitor experience. From easy-to-use software to complete check-in stations, KidCheck has you covered.
Easy to Implement – Simple to Use
Built with Security in Mind
Full Featured Solution at an Exceptional Value
Expert, Personal Free Service and Support, including Sundays
See KidCheck in action! Request a FREE demo.
As a benefit of being a Kidology Premium Member, you receive 10% off the monthly subscription cost for a full year when you sign up for KidCheck's secure children's check-in solution. View Member Discount Information.
KidCheck enables children's pastors to spend less time in front of the computer and more time ministering to kids, all without sacrificing the benefits of a well-maintained children's ministry database system. How? By delegating the inputing of data to the people who know the kids best and their constantly changing data: their parents. Web-based, fully customizable and affordable for churches of any size, KidCheck is the Check-In System you have been dreaming of adding to your ministry.



Karl Bastian, aka "The Kidologist"
Founder of Kidology.org
Kidmin Talk child safety discussion with Karl Bastian & KidCheck's Alex Smith