Kidology E-mail Newsletters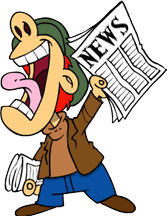 We are pleased to offer a variety of FREE e-mail newsletters packed with creative ideas, articles, and updates.
You don't have to be a Kidology member to receive these useful mailings (however, we'd recommend it!). Plus, we offer archives of all our newsletters in case you miss an issue or want to share with your friends!
Don't forget that we value and protect your privacy. Kidology does not sell or share your information with any third parties. All our e-mail newsletter lists are permission-based and you can unsubscribe at any time.
You may select from the following e-mail newsletters:
Kidology Newsletter & Weekly Update
Our flagship monthly newsletter featuring the latest articles, ideas, discussions, and resources found on Kidology.org. Thousands have benefited from the insightful information provided in this timely publication.
Kidology Weekly Update We also send short update on Monday mornings. Inside you'll find quick shortcuts to the latest articles, ideas, discussions, resources, and exclusive

Manic Monday

specials from the world of Kidology.
Kidology Champions Prayer Supporters Update
Updates from our founder, Karl Bastian, to let our Kidology Champion prayer supporters know timely and specific needs for prayer, sent periodically.
ToyBox Tales Update
Karl Bastian's popular ToyBox Tales are effective for teaching principles through the use of innovative media entertainment. Make sure you are notified of updates to this popular series by signing up for this newsletter.
Home School News
This is an exclusive update for home school families that we send out peridically to make them aware of resources on Kidology.org that we believe can be of use to the unique needs of home school families. Because we know the challenges of home school, we often include an exclusive discount not found anywhere else.
| | | |
| --- | --- | --- |
| | | |
| | | |
| | | |
| | | |

PLEASE NOTE: After you enter your e-mail address above, you will be asked to confirm it on the next page. Just enter your e-mail address again and hit "Submit." If you are already a subscriber to one of the lists above, it will state you are already a subscriber - please enter your e-mail address again to update your subscriptions. You will then be sent an e-mail with a link to update your profile. Click the link and then you will be taken to a page to choose from the newsletter lists above.
---
"Why all the hassle with this verification process?"
Good question.
In today's Internet world, sites as high trafficked as ours with lists as large as ours must operate under a "confirmed opt-in" policy. That means that before we can enter you into our system, we have to verify that you are the rightful owner of your email address.
It how we prevent abuse and it protects your e-mail address from being adding to any list without your permission.
"What if I don't get the verification email?"
Please check your bulk or spam folder as it's possible that our email to you was sent there by mistake.
If this happens, be sure to mark our email as "not spam," add us to your buddy list, or follow whatever protocol your email provider has for "whitelisting" any particular senders.
"I checked all that and still nothing!"
You should check with your ISP to find out why you're not receiving our messages.
Mail from us will either show up in your inbox, or clearly in your "bulk folder" at which point you can clearly mark us as "not spam.
"How can I avoid your newsletter getting spammed or junked?"
WE RECOMMEND YOU ADD: Kidology Newsletter with the e-mail address: listsend_do_not_reply@kidology.org to your address book as the best protection against spam filters preventing you from getting our newsletters. We don't want you to miss out on the exclusive offers and discounts that are often only in newsletters.
---
Your Privacy
Kidology.org uses

which guarantees the permanent removal of your e-mail address if you choose to discontinue recieving any e-mail newsletters. However, we reserve the right to subscribe members and store customers to our lists for communication purposes. You may unsubscribe at any time. We do not buy lists from marketing vendors. If you get an e-mail from us, you either subscribed, shopped in our store, or are a paying member of the website. We value your privacy.

In each e-mail you receive, there will be a link to unsubscribe or change your e-mail newsletter selections. Your privacy is important to us - please read our E-mail Privacy Policy.