Movie Review: The Golden Compass
Membership Level› Guest
Author/Source: Brett Richmond
Topic: Movie Review
A review of The Golden Compass including a perspective, description of the movie, areas of concern, teachable themes, discussion questions, and scriptures to use.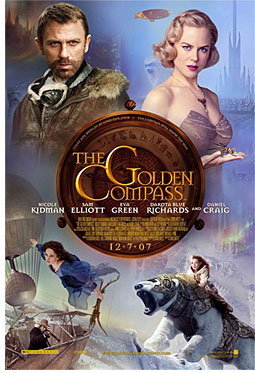 Additional commentary
by Karl Bastian, the Kidologist
(Kidology Zones)

Review Perspective

In light of all the controversy that this The Golden Compass has created let me put into perspective this review. I'm not going to tell you whether or not you should see this movie and I won't be comparing the book to the movie. The anti-religion propaganda of the original book has been removed as websites, articles, and reviews have reported. So with that were left with a movie that is rated PG-13, with a plot that takes place in an "alternate world", and a movie that is classified as a Fantasy Adventure film. This review is geared to assist parents, pastors, and teachers in interacting with children and adults that have seen the movie.


Plot Overview

The movie opens with an explanation of Dust, the creative substance of the world and the different worlds that exist in alternate universes. It tells of the Daemons, how each person has an animal that is the manifestation of their soul. The person and the daemon are united... they are one.

The world that The Golden Compass takes place in is modern, historical, and future all in one. The Magisterium is the governing force in the world; it seeks to increase its power over the lives of all the inhabitants. Witches rule the sky, Gyptians rule the waters, and armored polar bears are great warriors. Jordan College is the beacon of free thought and one of the few places where the Magisterium has little or no authority. In the college we are introduced to the heroin of the movie, Lyra Belacqua (Dakota Blue Richards), an orphan living in the college put there by her uncle, Lord Asriel, an enemy of the Magisterium and a well-known explorer. While at the college Lyra and her friends, become more and more concerned with the "Gobblers", a mysterious entity that has been stealing children from the city.

The adventures of Lyra begin as she sets out on an adventure with Mrs. Coulter (Nicole Kidman), head of the Magisterium's General Oblation Board. Before she sets out with Mrs. Coulter, Lyra is given the Alethiometer and told to keep it secret. The Alethiometer will tell its reader the truth of what is, but there are few that can read it. Together Lyra and Mrs. Coulter set out on an adventure to the northern lands of the Ice Bears. While on their travels the relationship between Mrs. Coulter and Lyra deteriorate and implode when Lyra discovers that Mrs. Coulter is behind the "Gobblers" and the abduction of two of her friends.

Lyra escapes from Mrs. Coulter and takes up with a group of Gyptians who join with her in her quest to save the children. On this quest Lyra meets up with a witch, Serafina Pekkala, who leads her to an Aeronaut, Lee Scoresby, and an Ice Bear, Iorek Byrnison. These characters form with Lyra as a type of fellowship who both work to rescue the children and who are dedicated to supporting and protecting Lyra.

There are numerous plot points throughout the movie, the Gobblers and the experiments done on the children, protecting Lyra and the Alethiometer, the quest of Lord Asriel, the battle between the Magisterium and Free Thinkers, and Iorek's battle to regain the throne as King of the Ice Bears. All of the plots are intertwined and explored but are only the beginning. At the conclusion of the movie you will have more questions than answers, nicely setting up for future films.


Objectionable Material
The Book / The Magisterium
If you saw this movie with someone who knew nothing of the book they would have no idea that the Magistrate represented organized religion. In the movie, the Magisterium is more of a fascist Cold War government, who seeks to control its people in all aspects of their lives. It's the authority that commits the atrocities in the movie, and during one moment there is a very weak explanation of why people would need the government to make their decisions. Whenever an authority commits atrocities in the name of power, it can create confusion for children that will need to be explained.


Situational Intensity
Throughout the movie the characters find themselves in deep situational intensity. There are several "jump in your seat" moments and intense scenes that involve children. Fantasy adventure movies tend to use intensity to bring to life plot points and to bring the audience into an emotional anxiety with the characters. The Lord of the Rings trilogy was rich with intensity, The Chronicles of Narnia had less intensity, and The Golden Compass is closer in intensity to Rings than to Narnia.


Daemons
As the movie explains in the beginning, each human has a soul that is in the form of an animal. This soul or conscience or spirit interacts with them and is linked to the humans in a symbiotic relationship... they share each others pain and lifeforce. When a human dies, the Daemons vaporize into a cloud of dust and cease to exist. There are different emotional connections you see in the movie. In the case of the main character and her daemon, Pan, they have a mutual relationship where they seek to support and encourage one another. In the case of Mrs. Coulter and her daemon, a golden monkey that doesn't talk, she rules it and makes it bend to her will, at one point she slaps it across the face causing pain to both of them.


Violence
Death and violence are a real part of this movie. There are scenes where humans and animals die sometimes in mass, but there is little blood and gore.


PG-13
The movie is PG-13 for a reason and is not recommended for younger children. If The Chronicles of Narnia was too intense for a child, this movie will also be too intense.


Teachable Themes
Face Your Fears
In the movie, Iorek tells Lyra that if he has to return to the land of the Ice Bears, from which he has been banished, that he will face his fears. Later in the movie Lyra comes upon a cabin in which she has to master her fear in order to enter. Throughout the movie Lyra faces fear but does not let it deter her from her missions. She stands up for those who can't stand up for themselves, she goes into the place that she does not know, and her care for others is her driving force.


Parental Hypocrisy
After Lord Asriel returns to the College, he and Lyra are walking through the courtyard talking. Asriel tells Lyra that she should be focusing more on her education and not on her adventures; he tells her that she needs to do what she is told and follow directions. Lyra responds with, "but you don't." Setting up an awkward moment between a father figure and a child, where the parent is telling the child to act in a different way than the parent is willing to act.


Follow the Truth
Lyra is given an Alethiometer, a device designed to tell the truth of what is, which she begins to learn how to use. For Lyra truth becomes her most important ally. She used the Alethiometer several times to discover the truth of what people are saying and what people want to do. Lyra relies on the Alethiometer to tell her the truth for her quests and for how she lives her life.


Biblical References
Face Your Fears:

1 Samuel 17:45-46 - "David said to the Philistine, "You come against me with sword and spear and javelin, but I come against you in the name of the LORD Almighty, the God of the armies of Israel, whom you have defied. This day the LORD will hand you over to me, and I'll strike you down and cut off your head. Today I will give the carcasses of the Philistine army to the birds of the air and the beasts of the earth, and the whole world will know that there is a God in Israel."


Daniel 3:16-18 - "Shadrach, Meshach and Abednego replied to the king, "O Nebuchadnezzar, we do not need to defend ourselves before you in this matter. If we are thrown into the blazing furnace, the God we serve is able to save us from it, and he will rescue us from your hand, O king. But even if he does not, we want you to know, O king, that we will not serve your gods or worship the image of gold you have set up."


Philippians 1:20-22 - "I eagerly expect and hope that I will in no way be ashamed, but will have sufficient courage so that now as always Christ will be exalted in my body, whether by life or by death. For to me, to live is Christ and to die is gain. If I am to go on living in the body, this will mean fruitful labor for me. Yet what shall I choose? I do not know!"



Parental Hypocrisy:

Genesis 18:19 - "For I have chosen him, so that he will direct his children and his household after him to keep the way of the LORD by doing what is right and just, so that the LORD will bring about for Abraham what he has promised him." (NIV)


Deuteronomy 4:40 - "Keep his decrees and commands, which I am giving you today, so that it may go well with you and your children after you and that you may live long in the land the LORD your God gives you for all time." (NIV)


Ephesians 6:1-3 - "Children, obey your parents in the Lord, for this is right. "Honor your father and mother"—which is the first commandment with a promise— "that it may go well with you and that you may enjoy long life on the earth."



Follow the Truth:

Psalm 25:4-5 - "Show me your ways, O LORD, teach me your paths; guide me in your truth and teach me, for you are God my Savior, and my hope is in you all day long." (NIV)


2 Timothy 3:16-17 - "All Scripture is God-breathed and is useful for teaching, rebuking, correcting and training in righteousness, so that the man of God may be thoroughly equipped for every good work." (NIV)


Psalm 43:3 - "Send forth your light and your truth, let them guide me; let them bring me to your holy mountain, to the place where you dwell." (NIV)
Discussion Questions
Face Your Fears :

How scared do you think David was standing in front of Goliath? When have you been scared but still did what was right?
Shadrach, Meshach and Abednego put all their trust in God and faced the fiery furnace. When have you faced your fears to stay true to God's Word? What happened? How did God' bless you for trusting him?
Can you think of someone you know in your life that has given up something for God? Can you think of someone in the Bible who was not ashamed of God? What did they do?
Have you ever been ashamed of your belief in God? How did you feel? Have you ever stood up for your belief in God? How did that feel?



Parental Hypocrisy:

For Parents: What is Abraham's part in fulfilling the promise that God gives in Genesis 18:19?
For Parents: Why does God want you to live his commandments and to teach them to your children?
For Parents: What is the future implications if you live out God's commands and you don't teach them to your children?
For Kids: What should you do when you see an adult making negative choices? Is that the example that Christ wants you to follow?
For Kids: What is the promise that God makes in Ephesians 6:1-3 if you follow his commands?



Follow the Truth:

What does Psalms 25:4-5 say about following the truth? If Jesus is your Savior, what truth do you follow? How do you know Jesus' truth?
What does it mean "all scripture is God-breathed", in 2 Timothy 3:16? Why is scripture useful? What does scripture prepare us for?
Do you believe that the Bible is the Word of God? Why or why not?
What questions do you have about the Bible and what God says is the truth?

Additional commentary by Karl Bastian, the Kidologist
(Kidology Zones)