| | |
| --- | --- |
| Fun, Food, & Faith Devotionals Zone | |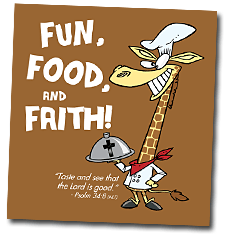 Fun, Food, & Faith monthly family devotionals are available for FREE download for all Kidology Premium Members.

Each monthly PDF features an overall theme, with a FUN activity, FOOD cooking time, and a Bible-reading FAITH component. Print and share these with your church and children's ministry families.

If you aren't a Kidology Premium Member or would like the complete yearly set of family devotionals (in both PDF and editable Microsoft Publisher formats), they may be purchased in the Kidology Store for local church use.
Fun, Food, & Faith Devotional - January


January download of Fun, Food, & Faith

Family Devotional
Fun, Food, & Faith Devotional - February


February download of Fun, Food, & Faith

Family Devotional
Fun, Food, & Faith Devotional - March


March download of Fun, Food, & Faith

Family Devotional
Fun, Food, & Faith Devotional - April


April download of Fun, Food, & Faith

Family Devotional
Fun, Food, & Faith Devotional - May


May download of Fun, Food, & Faith

Family Devotional
Fun, Food, & Faith Devotional - June


June download of Fun, Food, & Faith

Family Devotional
Fun, Food, & Faith Devotional - July


July download of Fun, Food, & Faith

Family Devotional
Fun, Food, & Faith Devotional - August


August download of Fun, Food, & Faith

Family Devotional
Fun, Food, & Faith Devotional - September


September download of Fun, Food, & Faith

Family Devotional
Fun, Food, & Faith Devotional - October


October download of Fun, Food, & Faith

Family Devotional