Categories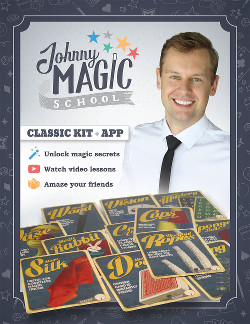 More Details ›
Johnny Magic School Classic Kit + App
Discover the magic of you!
Magician Johnny Magic teaches you how to perform his favorite classic tricks. Unlock the secret step-by-step video instructions in the Johnny Magic School app. The Classic Book box holds your tricks in custom fitted foam - use it as a performance case for your next show!
An All-Star Magician demonstrates five core values in everything they do on stage and in everyday life:
Trust
Enthusiasm
Authenticity
Courage
Humility
More than learning tricks, Johnny Magic School also encourages confidence, laughter, and a larger than life imagination.
Click here
to watch a preview video.
FREE domestic shipping!
NOTE: FREE shipping is on domestic orders only. You will be contacted for the shipping cost for international orders.
Retail price: $59.99 - SAVE 15% when you purchase it in the Kidology Store!