Categories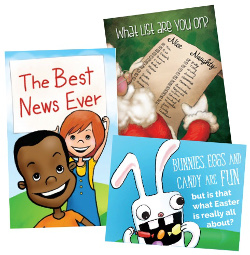 Gospel Tracts Combo - Christmas, Easter and Every Day
This multi-pack of Gospel tracts give you an easy-to-order sampling of multiple tracks for holidays and every day. This combo set is sold in packs of 100 of each design, for a total of 300 tracts.
The Best News Ever
multi-ethnic tract features boys and girls of various races. It's perfect for reaching a diverse audience of children.
View the full tract here.
What List Are You On?
is a great Christmas tract for young children. Make sure your name is on the ultimate list.
View the full tract here.
Easter Egg
is a brightly colored eight panel tract that's small enough to fit inside a standard plastic egg.
View the full tract here.
A note about shipping: domestic orders will ship for free. International orders will be billed at the actual shipping cost. Pre-approval will be required via email prior to shipment.
---
Related Products