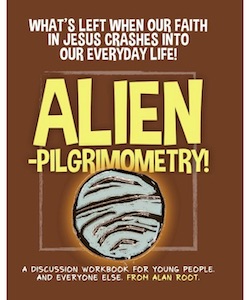 More Details ›
Alan Root's Alienpilgrimometry Workbook and Study Guide (Download)
Written Especially for Tweens.
Alan Root is a rock & roll musicianary to older kids. He is taller than he looks in this book... and even drew the pictures for this book all by himself.
ALIENPILGRIMOMETRY!
Written especially for tweens by the perspicacious and loquacious Alan Root
a•li•en•pil•grim•om•et•ry
[AY-lee-un-PILL-grim-AH-mu-tree] noun 1. what's left of our Christianity after it slams into our daily existence. 2. Purposeful evangelism lived out within the gravitational pull of the world system. 3. Peregrinations in a foreign country.
Scriptures are used extensively in our study. Why? Here's why: the Bible is the measuring stick of truth. Next to Jesus Christ himself, it's the clearest revelation of truth we have. The Apostle Paul said in 2 Timothy 3:16, "All Scripture is God-breathed and is useful for teaching, rebuking, correcting and training in righteousness, so that the man of God may be thoroughly equipped for every good work."
Download
a sample chapter now! And while you're there, check out the extra info.
Downloads will be available instantly by clicking on My Downloads at the top of any page.
NOW YOU HAVE TWO OPTIONS FOR PURCHASE:
Home License grants the purchaser the right to print out a personal copy and enough copies for use with the family at home.
Church License grants the purchaser the right to print out as many copies as needed for use in a single local church.
For your convenience, order all 7 of Alan Root's Tween Workbooks and Study Guides in one order (Home License only), click
here
.
---
Related Products