Categories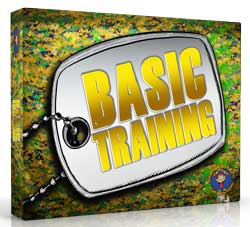 More Details ›
High Voltage Kids Ministry Basic Training Curriculum Pack
Lessons about the Basics of Christianity
Basic Training
will teach valuable lessons about the basics of Christianity.
Through Frankie's journey through Basic Training for the Army and Sgt. Scripture's Power Verses, your kids will learn all the basics for a strong foundation of Faith .
Includes high impact Video Segments, Graphic slides, Bible Story with graphics, skits, object lessons, and more. Plus, includes Small Group Lessons and Family Devotions to reinforce the Large Group lesson.
Click here
for sample lessons and videos.
NOTE: This product only ships within the continental US.
Prefer your curriculum via
download
?
---
Related Products