Categories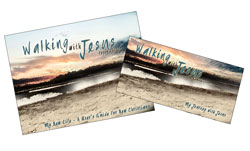 More Details ›
DiscipleZone Resources Walking with Jesus for Adults
A Step by Step Guide for New Christians
After becoming a Christian, a person will learn the basics for living as a Christian. In 7 steps, new Christians learn how to begin walking in their new-found faith.
Walking with Jesus
for adults includes:
How to Know for Sure that You're a Christian
How to Be a Fully-Devoted Follower of Jesus
How Read Your Bible so You Learn from It
How Talk to God Like Your Very Best Friend


How to Get God's Power to Do Really Hard Things
How to Get Stronger from Other Christians
How to Tell Others the Way to Become a Christian
In addition to basic help, new Christians will learn powerful truths such as how to live a fully-devoted life and how to receive God's power to do hard things. Action Steps are suggested throughout to help with applying what's being learned and each chapter concludes with a quiz on the core truths.
The set includes a User's Guide and a 28-day starter journal to practice one's own daily time with God in the Bible reading and prayer.
Sold in packs of 5
Also available in a
kid's version
!
Click
here
for a note on shipping.
---
Related Products