Categories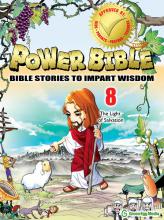 More Details ›
Power Bible Book Eight: The Light of Salvation
Bible Stories to Impart Wisdom
Growing up in this day and age can be difficult with all the challenges kids face today, which is why reading the Bible to know and love God is the best gift and security a child can receive. The
Power Bible's
comic format engages children to read through the Bible with its beautiful illustrations and accurate Biblical information. From Genesis to Revelation, the Power Bible will show who God is and how Jesus came to save us from our sins.
The
Power Bible
continually points to God so that kids can know Him and learn to live life with confidence and purpose. It is an excellent tool for parents to give to their children, sparking conversation and providing teaching moments about God and the gospel of Jesus Christ.
Book Eight:
The Light of Salvation
Click here
for a detailed description and to view a sample.
This product only ships within the continental US.
---
Related Products