Categories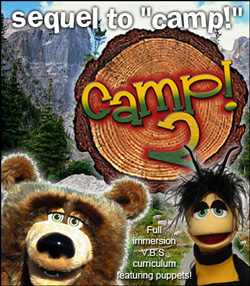 More Details ›
Puppets Inc. Camp! 2 VBS Kit
A Sequel to Camp! VBS Curriculum
At Camp Aladaiki, campers are treated with a series of messages over the course of five days that emphasize important lessons that will matter for the rest of their lives.
This product kit includes the
Camp! 2
VBS Curriculum which contains 6 CD's filled with scripts and manuals, plus 2 Audio CDs packed with nearly two hours of puppet programs and sing-alongs.
This VBS kit is highly customizable. You can make it as simple or elaborate as you'd like. If you don't like the game, or craft, or lesson, choose another! It has choices galore and helpful notes for Biblical application to all your choices.
The puppet character,
Beez
is new. You'll love her! She is sold separately and is a companion to
Kody
the bear puppet from
Camp!
.
Main Camp Theme
: God Is Always Near
Daily Themes:
Day One: When Good Things are Happening
Day Two: When Bad Things Happen
Day Three: When I Am Afraid
Day Four: When I Need Help
Day Five: When Nothing Is Happening
Click
here
for more information on
Camp! 2
.
To view
Camp! VBS
click
here
.
---
Related Products