Categories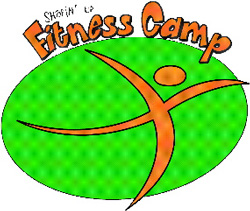 More Details ›
KidzBlitz Shapin' Up Fitness Camp
5-Day, Bible-Based Fitness/Nutrition Program
Shapin' Up Fitness Camp
Shapin' up hearts, minds and bodies!
Fitness Camp is a five-lesson, Bible-based nutrition and fitness program teaching kids to live a healthy lifestyle the way God intended. Fitness Camp addresses one of the biggest challenges facing kids today - their health.
Use Fitness Camp as a summer camp, alternative VBS, or weekend series. Use it year after year! The curriculum has all the information you need to lead a Fitness Camp.
Included: Six fitness DVDs, five Bible and health lessons on CD, PowerPoint presentations, games and activities, parent handouts, administrative forms, promotional videos, graphics, and more.
Shapin' Up
is centered on I Corinthians 10:31,
Whatever you eat or drink, or whatever you do, do all to the glory of God.
Age recommendation: 1st-6th grade
For more details and samples,
click here
.