Categories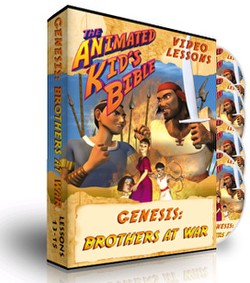 More Details ›
Animated Kids Bible Genesis: Brothers at War Interactive Lessons 13-15
A Sunday school teacher's dream come true!
Animated Kids Bible
Genesis: Brothers at War
Interactive Bible Lessons 13-15
Bible study doesn't have to be dull! The Animated Kid's Bible Video Lesson series uses animated stories with vivid detail, along with interactive learning features, to make these old stories come alive.
The Animated Kid's Bible Video Lesson Set 5 has lessons 13-15. These stories continue the life of Abram, a tale full of serious lessons and riveting adventure, presented here with stunning visuals and fun interactive features.
These DVD's have more than just exciting, visually appealing Bible stories. The Video Lessons set also has learning materials to make studying Bible stories fun for kids. They'll be entertained and engaged, but also they'll learn what the stories really mean.
Features:
Contains Four Disks
Plays on all DVD players - Worldwide
Contains three major bible lessons
120 minutes of video (Samples)
Home Study handouts
High quality prints
Click here
for more details.
Save money - buy the entire Genesis set!
Individual Episodes also available via download:
Episode Thirteen
Episode Fourteen
Episode Fifteen
---
Related Products