Categories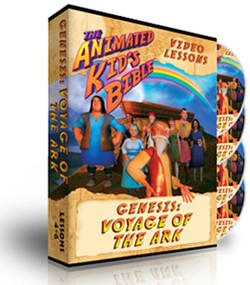 More Details ›
Animated Kids Bible Genesis: Voyage of the Ark Interactive Lessons 4-6
A Sunday school teacher's dream come true!
Animated Kids Bible
Genesis: Voyage of the Ark
Interactive Bible Lessons 4-6
This is the second set of the Animated Kid's Bible video lessons. It picks up where the first set left off, with the story of the Ark and Noah's children.
The Animated Kid's Bible is a new take on the old stories we all know and love. These DVD's have great graphics and wonderful stories for the kids to enjoy. But most of all, they help your kids learn the stories in the Bible, and really understand what they mean.
The movies themselves are visually exciting and full of fast-paced action. The series uses CGI animation with Hollywood-quality scripts and voice-overs. Your kids will be glued to the screen, waiting to see what happens next!
But, these DVD's don't just entertain the kids; they also educate, and that is what the Animated Kid's Bible Video Lessons are all about.
Features:
Contains Four Disks
Plays on all DVD players - Worldwide
Contains three major bible lessons - all revolve around the story of the ark
120 minutes of video (Samples)
Study handouts
High quality prints
Click here
for more details.
Save money - buy the entire Genesis set!
Individual Episodes also available via download:
Episode Four
Episode Five
Episode Six
---
Related Products