Categories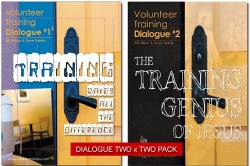 More Details ›
Cadre Ministries 2x2 Pack of Dialogues
2 of each Dialogues 1 & 2
Need help creating a culture of training in the ministry in which you serve? Start right here! In this
2x2 Pack of Dialogues
, you get TWO copies of Dialogue #1: Training Makes All The Difference and TWO copies of Dialogue #2: The Training Genius Of Jesus.
These workbooks will launch you and your team into stimulating interaction about how to create a culture of training in your ministry. Pour the coffee or scoop the ice cream and work your way through the Dialogues together as a team--or one-on-one!
Ordered separately, the cost of these four Dialogues would be $14--but this 2x2 Pack (four total Dialogues) is being offered for $10 (+S&H).
Click here
for more information.
---
Related Products