Kidmin Talk #056 - June 18, 2013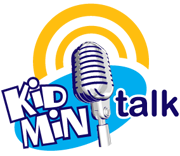 Duration: 00:29:40
Download MP3
Numbers Are Down, What To Do?!
Welcome to the fifty-sixth episode of Kidmin Talk, the webcast show hosted by Karl Bastian, the Kidologist. Listen here on Kidology or subscribe via iTunes to listen on-the-go with your iPhone, iPod, iPad, or other mobile device.

SPONSOR: This episode is sponsored by U-TURN Cards!
MENTIONED ON THE SHOW TODAY:
SHOW NOTES:
GROUP IDEAS for small gatherings:
Birthday Parties (everyone born this month)
Sack Lunch Sunday
Sport Stacking Clinic
Movie Nite
Picnic at Your House
Met Me at the Park!
ONE ON ONE IDEAS for deeper relationships and ministry
Discipleship
Happy Meal Outings
Pastor Play Dates
Family Movie Nites at Your House or Families
VOLUNTEER ENRICHMENT IDEAS
Coffee Get Togethers
Hit a Movie (men w/ men, women w/ women!)
Mini Golf
etc.
Jesus ministered to the masses, but He poured His life into a few.. and those few are who turned the world upside down and changed the world. It isn't your large events that will be your legacy, it is the relationships you invest in. Use the time when Big Events can succeed to pour into people!
Also mentioned on the show:
Getting to know someone:
Find out where they are F.R.O.M.
F - Family
R - Recreation
O - Occupation
M - Motivation
For kids use: F.I.S.H.
F - Family
I - Interests
S - School
H - Hobbies
WANT TO BE A WINNER? Contribute to the show by E-mail or Twitter.
Earn extra chances to win by promoting @KidminTalk via Twitter! If I see you promote the show, I just might send you a prize! It's been done before already!
MUSIC ON THE SHOW:
Bumper music by Rob Biagi Music available on Kidology! Booking info at RobBiagi.com
This week featured BONUS TRACK (at end) Y Not Today from Righteous Pop Music (Vol. 1) from CreativeMin.com
CONNECTING w/ KIDMIN TALK: