Kidmin Talk #042 - October 25th, 2012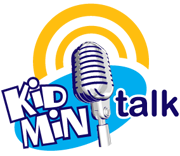 Duration: 00:30:20
Download MP3
Managing Ministry Cycles
Welcome to the forty-second episode of Kidmin Talk, the webcast show hosted by Karl Bastian, the Kidologist. Listen here on Kidology or subscribe via iTunes to listen on-the-go with your iPhone, iPod, iPad, or other mobile device.
SPONSOR: This episode is sponsored by ENGAGE CHILDREN CONFERENCE

MENTIONED ON THE SHOW TODAY:
SHOW NOTES:
Ministry has within it, natural C.Y.C.L.E.S. How can we manage those cycles so that we stay fresh and engergized? How do you know what to keep and what to cancel? Leaders can easily get stuck in a rut. Here is an easy outline of suggestions as explained in more detail on the show:
C = Clear the Calendar
Don't do anything because you've done it before. Start fresh and before you put anything on, ask, "Why am I doing this?" If you don't have a strong and convincing answer... don't.
Also, put the most important things onto the calendar first. (Hint: They may not be programs.)
Y = Yield to God
What have you done lately that came out of prayer? What crazy idea are you pursuing because God has laid something on your heart? Or are you so busy running programs and maintaining the things God laid on your heart (or someone else's in the past) that there is no room to be sensitive to His leading now?
C = Commit to the BEST
You can't do everything. The sooner you learn that, the healthier you will be. So determine what is best, and prioritize and plan those things, and be prepared and content to be a failure in other areas. It's O.K. You won't please everyone. Once you accept that, others will too.
L = Learn from the Past
What has worked? What hasn't? But just because something has worked, doesn't mean you have to do it again! Or, do it every year. Some great events can be every other year! Einstein said, "If you keep doing the same thing over and over, you cannot expect different results."
E = Evaluate Everything
Too often we have things we do "just because we do them," or "we've always done it this way." There is no ministry program in the Bible! Jesus only commanded us to go and make disciples and train them to obey everything He taught - He didn't specify how. It's OK to evaluate, adjust, and even try something new.
S = Simplify. Simplify. Simplify.
It is states three times because few leaders take this to heart. They will say with their mouths that "ministry is people" but they have no time for people. If you want to have time for poeple, you have to have less programs, less meetings, less administration and less of whatever is keeping you from people. It's that simple. (and extremely difficult, I know.) But NOT impossible. It just takes some determination.
KIDMIN TALK WINNER! I'm putting together a Kidmin Prize Kit. I'll drop it in the mail to someone who participates in the Forum Discussion on this topic. (linked below) How have you managed Ministry Cycles? What tough choices have you made? How do you stay fresh and renewed. Share your secrets to encourage others.
I'd also love to hear from you by E-mail or Twitter.
MUSIC ON THE SHOW:
Bumper music by Rob Biagi Music available on Kidology! Booking info at RobBiagi.com
CONNECTING w/ KIDMIN TALK: