Kidmin Talk #037 - July 31st, 2012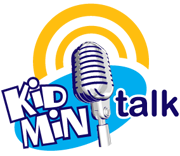 Duration: 00:27:26
Download MP3
It's That Simple, It's That Difficult
Welcome to the thirty-seventy episode of Kidmin Talk, the webcast show hosted by Karl Bastian, the Kidologist. Listen here on Kidology or subscribe via iTunes to listen on-the-go with your iPhone, iPod, iPad, or other mobile device.

Kidology Members Can Attend for only $99 (50% off!)
SPONSOR: This episode is sponsored by INCM's CM Leaders Conference
MENTIONED ON THE SHOW TODAY:
KIDMIN WINNER! This week, I will GIVE AWAY A FREE SET OF AWESOME ADVENTURE 6-9; 9-12 and Teacher's Guide (3 books!) to someone who provides thoughtful discussion in the Show Notes Discussion linked Below!
Awesome Adventure 6-9 - Awesome Adventure 9-12 - Teacher's Guide
WANT TO BE A WINNER? Contribute to the show by E-mail or Twitter.
Earn extra chances to win by promoting @KidminTalk via Twitter! If I see you promote the show, I just might send you a prize! It's been done before already!
NAME DROPPING: Did you get your name dropped on the show? Comment below!
If I drop your name on the show and you post to the comments below before the next show, you will win a super duper random Kidology prize! Want to increase the chances of Karl "dropping your name?" Interact with the show by E-mail, Forum, Twitter or the comments below! Let Karl know you are listening!
Bumper music by Rob Biagi Music available on Kidology! Booking info at RobBiagi.com
CONNECTING w/ KIDMIN TALK: