Kidmin Talk #011 - November 29, 2011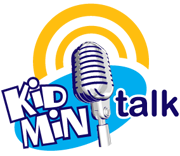 Duration: 00:37:33
Download MP3
Making the Most of Holidays
Welcome to the 11th episode of Kidmin Talk, the webcast show hosted by Karl Bastian, the Kidologist. Listen here on Kidology or subscribe via iTunes to listen on-the-go with your iPhone, iPod, iPad, or other mobile device.
SPONSOR: This episode is sponsored by Stars of Christmas
MENTIONED ON THE SHOW TODAY:
ABC's of KIDOLOGY: The Letter "H" = Holidays
Don't kill yourself - but make it special.
Team up with another ministry to share the work!

1) Theme it up!

2) Ramp it up!
Teach Special Curriculum
Kids in "Big Church?" Provide special bulletin or take-home family devo kit.
Family Sunday? Then do something to enhance

Attendance being "down" isn't a reason to do less, it is a reason to do something special that you can't do with a large group. Make "down Sundays" an "UP SUNDAY" for the kids who are there!

3) Try new or experimental things - if it flops, it was "just a holiday thing" - if it goes over great, make it a regular thing.

4) Recruiting Issues
Always form a team to lead efforts.
Give regulars a week off
Invite people to try out CM, they might like it!
Hire special guests, magician, clown, other performers
Swap with other churches talent
Look for talent in your church

5) Notice and Follow Up on Visitors who come on the holidays
Personal visits to the homes with a gift
Creative packet in the mail
Phone call, leave a message
KIDMIN WINNER! No one guessed the Kidmin Key Word this week! Maybe next week?
WANT TO BE A WINNER? Submit your guess or suggestion for next week's Kidmin Talk Key Word for the letter "I" - by E-mail, Forum, or Twitter.
Earn extra chances to win by promoting @KidminTalk via Twitter! If I see you promote the show, I just might send you a prize! It's been done before already!
NAME DROPPING: Did you get your name dropped on the show? Comment below or in the forum!
If I drop your name on the show and you post to the comments below before the next show, you will win a super duper random Kidology prize! Want to increase the chances of Karl "dropping your name?" Interact with the show by E-mail, Forum, Twitter or the comments below! Let Karl know you are listening!
MUSIC ON THE SHOW:
Righteous Pop Music from CreativeMin.com played on the show:
"Manger Zone" - Christmas Vol. 1
"Three Wise Men" - Christmas Vol. 2
Bumper music by Rob Biagi Music available on Kidology! Booking info at RobBiagi.com
CONNECTING w/ KIDMIN TALK: