Kidmin Talk #144 - October 5th, 2020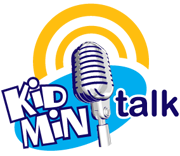 Duration: 00:49:18
Download MP3
When the Leadership Above You is Hindering Ministry
Welcome to the 144th episode of Kidmin Talk, the webcast show hosted by Karl Bastian, the Kidologist. Listen here on Kidology or subscribe via iTunes to listen on-the-go with your iPhone, iPod, iPad, or other mobile device.
Share this podcast with this link: Kidology.org/kidmintalk144

FEATURED RESOURCE: ServeHQ exists to Equip and Engage Your Whole Church.
There are three apps - you can use them all or whichever ones meet your current need:
HuddleUp: Mass email & texting, plus safe group-chat for everyone in your ministry
TrainedUp: Offer online classes for new members, new volunteers, and developing leaders.
FollowUp: Automate next steps for new volunteers, new guests, new members, and more!
MENTIONED ON THE SHOW TODAY:
KIDMIN TALK #144:
CONNECTING w/ KIDMIN TALK:

Discuss this episode of Kidmin Talk in the Kidology Facebook Group