Kidmin Talk #140 - July 19th, 2020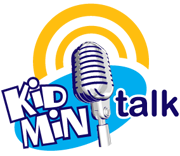 Duration: 00:29:38
Download MP3
Essential Characteristics for Success
Welcome to the 140th episode of Kidmin Talk!
Essential Characteristics for Success
Ministry is hard. Especially these days. What are the characteristics a leader must possess to survive over the long haul? How do you avoid burn out? What will keep you going when the going gets tough? What sets leaders apart from those who don't last long or quit when it gets difficult? How do you keep going when you face overwhelming challenges? Why do some keep going when most fizzle out? Find out from a leader who has stuck with it for decades even through very hard times. In the midst of Covid-19, it's a timely message.
Share this podcast with this link: Kidology.org/kidmintalk140

FEATURED RESOURCE: ServeHQ exists to Equip and Engage Your Whole Church. There are two apps - you can use both or whichever one meets your current need:
ENJOY: Kidmin Talk #140
MENTIONED ON THE SHOW:
CONNECTING WITH KARL:
E-mail: karl @ kidmintalk.com (put it together - broken here to fight spambots)
Twitter: @Kidologist or @KidminTalk

Discuss this show in the Kidology Facebook Group
Friend Karl at Facebook.com/karl.bastian