Kidmin Talk #134 - April 6th, 2020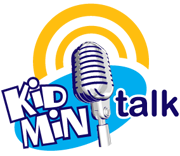 Duration: 00:29:08
Download MP3
A Mission of Hope for Families
Welcome to the 134th episode of Kidmin Talk!
A Mission of Hope for Families - from JumpStart3
Pastor Karl Bastian interviews Jeff McCullough, a "Musicianary" who has created an incredible interactive Scripture Music Tool to get families movin' and groovin' to Scripture while cooped up inside!
Learn about a new tool for helping families stay connected while learning scripture!

FEATURED RESOURCE: JumpStart3 Mission of Hope!
MENTIONED ON THE SHOW:
CONNECTING WITH KARL:
E-mail: karl @ kidmintalk.com (put it together, broken here to fight spam bots)
Twitter: @Kidologist or @KidminTalk

Discuss this show in the Kidology Facebook Group
Friend Karl at Facebook.com/karl.bastian