Kidmin Talk #110 - September 4th, 2018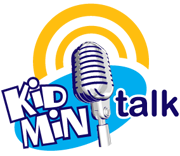 Duration: 00:35:21
Download MP3
The ALL NEW Kidmin Talk Show
Welcome to the 110th episode of Kidmin Talk, the webcast show hosted by Karl Bastian, the Kidologist.
The NEW Kidmin Talk Show #110 covers teaching kids grace, Fortnite, health in ministry, and more!
KIDMIN TALK is moving to the KIDMIN TALK ZONE hosted by Kidology.org.
The Archive of older Kidmin Talk Shows will remain on iTunes, but Apple is deleting episodes older than 100 episodes and that stinks, so we are going to be hosting the NEW VIDEO SHOW via Vimeo.
WATCH THE SHOW HERE: Kidology.org/kidmintalk110
This is the last episode to be hosted via iTunes. Thank for you for support over the past 8 years. We'll see over on Kidology.org at KIDMINTALK.com