Kidmin Talk #097 - June 13th, 2017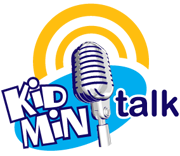 Duration: 00:46:20
Download MP3
Ministry Outside the Church
Welcome to the 97th episode of Kidmin Talk, the webcast show hosted by Karl Bastian, the Kidologist. Listen here on Kidology or subscribe via iTunes to listen on-the-go with your iPhone, iPod, iPad, or other mobile device.
Karl Bastian, aka the Kidologist, from Kidology.org invites Pastor Craig Wilson onto the show to talk about creative ways to reach the kids who don't go to your church. Incredible ministry in church is great - but what about the children who will never walk through your doors? Don't they need to learn about Jesus too? How can you creatively reach them?

SPONSOR: This episode is sponsored by Disciplr.com
Hey, Listeners! My friends over at Disciplr are doing something really cool that I want to tell you about. If you haven't heard, Disciplr is a digital platform where you can pay one price for unlimited children's curriculum at your church. It's all available digitally through this simple interface that lets you customize lessons, bring in volunteers, and so much more. It's easy-to-use, affordable, and a real no-brainer. You really need to go check out what they do, and the best news is that Disciplr is offering all listeners of KidMin Talk a free 7-day trial today. All you have to do is go to disciplr.com (that's d-i-s-c-l-p-r, no "e") to signup today and get access to over 20 lines of world-class curriculum all in one place at one low price.
MENTIONED ON THE SHOW TODAY:
WATCH THE SHOW:
CONNECTING w/ KIDMIN TALK:

Discuss this episode of Kidmin Talk in the Kidology Facebook Group