Apply for a Kidology Grant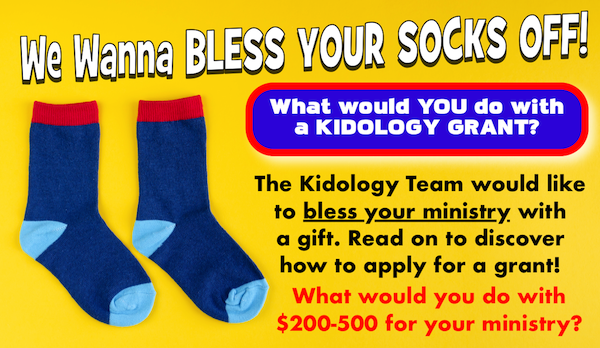 What would you do with a little extra money for your kids ministry budget?
I understand that ministry budgets are tight - when there even IS one for kids ministry! You've become an expert at doing much with little, stretching pennies, and making the most of what you have. That's why Kidology.org has been such a blessing to so many small ministries over the years and why our team works so hard to create so many helpful resources to Equip and Encourage YOU!

But I know that sometimes there is something you'd like to do - and you're just waiting for the funds to make it happen! I love encouraging leaders and rewarding vision! That's why in addition to countless free resources and memberships that we give away every month to small ministries, chruch plants, students and missionaries, we want to also help some small dreams come true.

Please know, our grants are small because the Kidology Foundation is not a fund where we give off of the interest. These are gifts we make out of our budget, a percentage of what God blesses us with, so that we can bless others!

We know we'll get more requests than we can fulfill, but we will pray for each and every one, and thoughtfully choose to grant the ones that we are able as the Lord enables us!

If you are a ministry with a healthy budget and would like to contribute to helping us fulfull some kidmin dreams for smaller ministries - please consider donating to Kidology. You can be a part of helping us bless those who need it most!

Because Jesus Loves Children,

Pastor Karl Bastian
Founder of Kidology.org
How can we knock your socks off?
It is our desire to help small ministries get some exciting things to enhance their ministry and improve their ability to reach kids for Jesus! So that's why I love asking, "What would you do with some extra money?"
Bibles for the children
A puppet or puppet stage
A Gospel illusion
A needed ministry tool
A new ministry logo design
Some tech equipment
Other?

How to Apply for a Kidology Grant:
You must be an All Access Member of Kidology.org (It is fine if it is a scholarship membership.) This isnt about income, it just establishes our relationship with you and shows us how long you've been a part of our community. We don't entertain applications for people or sources we can't independantly verify. If you found this page in web search, and had never heard of Kidology before, this likely isn't the place for you.
Send an email to foundation @ kidology.org and include the following:

Complete contact information including the e-mail from the membership.
One page document on what you'd like to do with a grant. We prefer a PDF.
Include a picture of yourself in your ministry setting - with other leaders, teaching, doing ministry - help us see who you are in the context of your ministry.
Any links to what you'd like to get - we may use that link, or we may use it to learn more about what you'd like to do. We won't make any purchases without first discussing with you. Often, we have connections and relationships where we can get things more affordably than a customer can on their own.
Describe briefly your relationship with Kidology - how long you've been a user and/or member, if you've been to Kidology events or met Karl. What's our connection?
REQUIRED: A short video (only 2-5 minutes) describing what you'd like to get, do, or purchase and why. This video often is the most influencial in our decision as it really helps us get to know you and your ministry, your passion for your idea, and our understanding of the context of your need. We may post your video in our Kidology Facebook Group to promote the Foundation and raise funds, so don't include personal information (contact info, etc.) beyond your name, as we'll have that in the included document. Feel free and even encouraged to be creative and fun in your video. It will make a big difference, but don't worry about being 'professionally produced' - we aren't looking at the production value of the video, but rather the content and heart of the message!
Link to your church/ministry website and any social media accounts you may have (Facebook, Instagram, YouTube, etc.)
Include a copy of your ministry's non-profit documentation, statement of faith (link is fine) and anything else you think might help us in our decision.

Join us in praying for the Kidology Foundation and that God would give us both the resources to make grants and the wisdom to choose which to fulfill.
If selected, we will work with you on how it is delivered - whether we are buying it and having it shipped, reimbursing you, or some other arrangement.
NOTE: ONLY COMPLETE APPLICATIONS WILL BE CONSIDERED. Please send everything at one time. Incomplete applications will not be considered. With our limited staff, we are unable to use our time to chase down details. For large files, please include a download link rather than attaching the file. (Google Drive, Dropbox, Box.com etc. all have free accounts with plenty of space for this purpose.)
Complete application will be confirmed when received and in the evaluation process and you'll be notified within 90 days of acceptance, or we will inform you if it isn't something we can or will do at this time.
Please only apply once in a 12 month period. We want to consider as many different ministries as possible.
We ask that after you receive your grant you provide us with the following so that we can celebrate the gift and encourage others to contribute to future grants:


A picture of yourself, team, or kids with the gift.
A thank you note that we can post online describing how the grant will help your ministry reach and teach kids for Jesus.
Post to your own social media accounts about your gift with a link to Kidology.org/foundation so others can learn about this opportunity or donate.
We look forward to hearing from you!
Obviously, please only apply if you are unable to provide the resource for yourself. Our goal is not to save ministry's money, it is to help provide ministry tools they otherwise would not be able to get within their budget.
We want to be an answer to prayer!
If you have any questions, please don't hesitate to ask! Contact Customer Support