100 Bible Names Magic Trick
This is an EASY but AMAZING magic trick using 100 Bible names.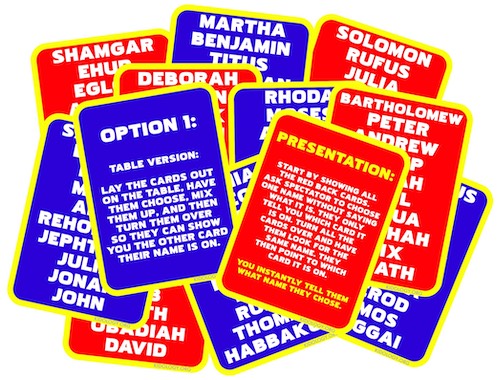 PRESENTATION:

START BY SHOWING ALL THE RED BACK CARDS. ASK SPECTATOR TO CHOOSE ONE NAME WITHOUT SAYING WHAT IT IS. THEY ONLY TELL YOU WHICH CARD IT IS ON. TURN ALL THE CARDS OVER AND HAVE THEM LOOK FOR THE SAME NAME. THEY THEN POINT TO WHICH CARD IT IS ON.

YOU INSTANTLY TELL THEM WHAT NAME THEY CHOSE.


OPTION 1: TABLE VERSION:

LAY THE CARDS OUT ON THE TABLE, HAVE THEM CHOOSE, MIX THEM UP, AND THEN TURN THEM OVER SO THEY CAN SHOW YOU THE OTHER CARD THEIR NAME IS ON.

OPTION 2: NO TABLE VERSION:

HOLD THE CARDS AND SHOW THEM ONE AT A TIME AND TELL THEM TO CHOOSE A NAME AND SAY STOP WHEN THEY ARE ON THE CARD IT IS ON. TURN THE CARDS OVER AND SHOW THEM ONE AT A TIME ASKING, "IS IT ON THIS CARD?" WHEN THEY SAY YES, REVEAL THE ANSWER.
THE SECRET:

FInd out by downloading it as an All Access Member! BONUS demonstration video included!
You can also purchase this Gospel Magic Trick in the Kidology Store!
WORKS WITH YOUR LIVE ONLINE VIDEOS TOO - watch Karl demonstrate the trick on Facebook Live